King
King's Source for Window and Door Installation
Count on Kempenfelt Windows and Doors if you need a reliable and affordable window or door replacement in King. You can find high-quality windows and doors from both Canadian and international manufacturers in our extensive inventory, so you can find something that suits your needs. In addition, our team of experienced professionals will be glad to assist you in making the right product choice and will properly install them so that they will last for many years.
Why Choose Kempenfelt Windows & Doors
At Kempenfelt Windows and Doors, we have provided the best quality products and excellent service for over 25 years. We take pride in offering affordable, industry-leading products in King.
Our team will closely work with you if you purchase a door or window from us from start to finish. With our help, you will be able to find a product that will fit your taste and your budget, ensuring you get exactly what you are looking for, and our team will then install the products professionally in your home. We are committed to offering excellent customer service as King's leading window and door company.
Our Showrooms in Barrie & Newmarket
Due to our superior quality products, experienced professionals, and convenient locations, Kempenfelt Windows and Doors is the company that King residents rely on for all their window and door needs.
Our Barrie and Newmarket showrooms are both easily accessible. Visit our showrooms for a closer look at our products, or you can check out our windows online to see our selections from the comfort of your own home.
Get in touch with us if you would like more information about our products or services. Our knowledgeable staff would be glad to assist you with any questions you might have about windows and doors for your home and help you select the perfect ones.
Kempenfelt Windows
If you are searching for high-quality and affordable windows in King, Kempenfelt Windows is the perfect choice for you. We are proud to work with Euro Vinyl Windows and Doors, an industry leader, so you can trust that we'll meet your needs and provide you with the best quality. We have a variety of different styles available to suit your needs, so whatever it may be, you will be able to find them here.
Visit our online product page to see our different window designs.
Kempenfelt Doors
One of the most important components of your home is its doors, which is why we offer such a broad selection of doors from different manufacturers, so you can choose a door that's ideal for you and your home. Whether you want a bold new front door or you need a patio door that can be opened easily from the backyard, Kempenfelt Windows & Doors has your needs covered.
Visit our online product page to see our different door designs.
Kempenfelt Garage Doors
There is no doubt that garage doors are important for their function above all else, but they can be stylish. Whether you're trying to match your home's existing look or want something that will complement it, Kempenfelt Windows and Doors offers a variety of garage door styles and colours so you can find the perfect garage door for your home.
Our Awards
We take pride in the fact that Kempenfelt Windows & Doors has not only been nominated for Reader's Choice Awards but has also been awarded multiple in our different areas of service, including King.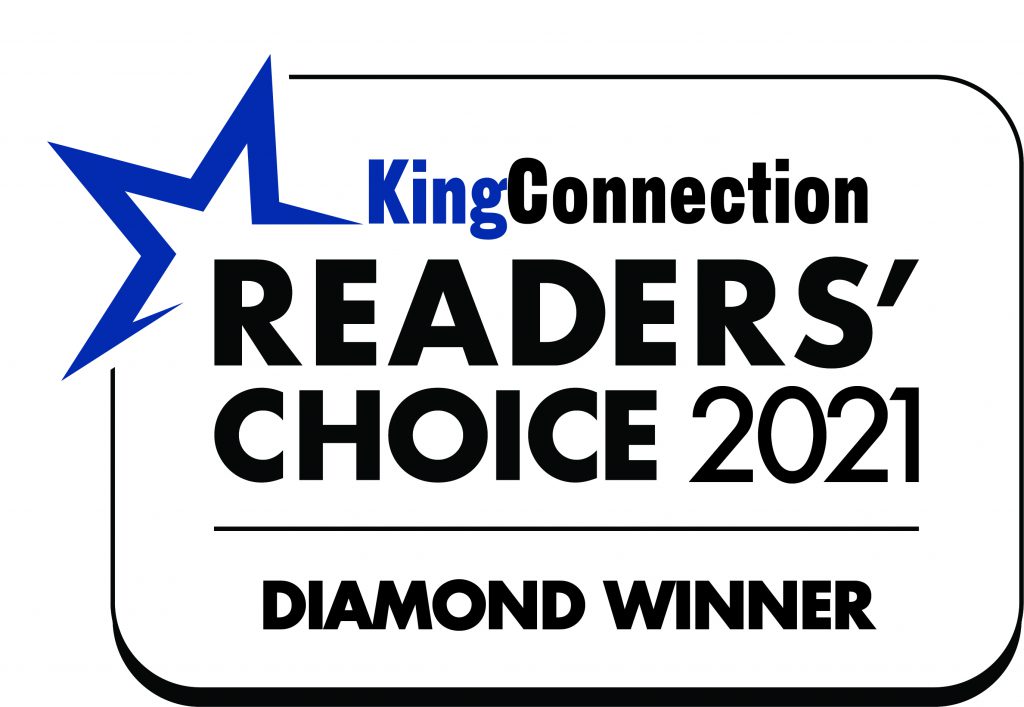 Voted King's Favourite
Window & Door Company!
Contact Us
Kempenfelt Windows and Doors can help you choose new windows and doors for your King home. Whether you have a question about our products and services or if you are looking for a perfect solution for your needs, we are happy to help you.
Contact us today, and we will provide you with a free, no-obligation estimate and help you find the windows and doors of your dreams.
Newmarket Showroom
569 Steven Court, Unit 6
Newmarket, ON, L3Y 6Z3
Phone: 905-895-1554
Toll-Free: 1-800-841-7469
Hours:
Tue-Fri : 9:00 AM – 5:00 PM
Sat : 9:00 AM – 3:00 PM
Our Newmarket Showroom is open for walk-ins during regular hours.
If you are unable to visit during regular hours, contact us to book a private appointment at your preferred evening or weekend time.
Newmarket Service Area
Kempenfelt Windows and Doors Newmarket proudly services Newmarket, Bradford and Aurora.