Georgina
Georgina's Source for Window and Door Installation
If you are looking for quality windows and doors in Georgina, then Kempenfelt Windows & Doors is the best choice! Our windows and doors are manufactured with top-of-the-line materials so that our customers can enjoy their beauty, strength and durability for years to come.
With over 25 years of experience serving homeowners throughout the region, we have established ourselves as premier experts when it comes to providing first-class installation services. We prioritize customer service by offering a wide selection of styles to choose from while giving each order special attention, too – resulting in exceptional results every single time. So if you're ready to get the best home improvement done right away without any hassles, Kempenfelt is here for you!
Why Choose Kempenfelt Windows & Doors
When your choosing something for your home, you want the best of the best. That's why at Kempenfelt, we make sure that every window and door is crafted with the highest quality materials available. We offer a variety of styles to choose from so you can find exactly what you need for your home. Whether you're looking for contemporary, traditional, or something in between – our design experts will work with you to find the perfect fit for your space.
In addition to providing exceptional products, we also pride ourselves on offering unbeatable customer service. Our team of experienced technicians is highly trained and has an eye for detail when it comes to installation. We understand that no two homes are alike, and that's why we take each project individually, making sure to take into account all personal needs and preferences.
Our Showrooms in Barrie & Newmarket
Sometimes it can be hard to visualize the perfect windows and doors for your home. That's why we have two showroom locations – one in Barrie and another in Newmarket – where you can browse our selection of products before making a purchase decision. Our knowledgeable staff will be happy to answer any questions you may have and help make sure that you get exactly what you need. So stop by and take a look at our full range of windows and doors today!
Kempenfelt Windows
Windows are an important part of any home, and at Kempenfelt, we offer a range of styles from single-hung to double-hung to casement windows. We also provide custom-made options for those who have specific requirements. Our windows are made with the best materials available, meaning that you can count on their strength and durability for many years to come!
Visit our online product page to see our different window designs.
Kempenfelt Doors
Your front door is the first thing that people see when they visit your home, so you want it to make a great impression. At Kempenfelt, we have a range of styles, from steel to fibreglass entry doors, so you can find the perfect one for your home. Our team will work with you to make sure that your door is installed properly, ensuring that it's secure and energy efficient. So if you are looking for exterior doors that are sure to last, look no further than Kempenfelt!
Visit our online product page to see our different door designs.
Kempenfelt Garage Doors
If you are looking to replace your garage door, Kempenfelt has you covered. We work with GARAGA to provide the highest quality garage doors on the market. Our experts can help you choose from a variety of styles and colours to find one that fits your home's aesthetic. We also provide installation services so you don't have to worry about a thing!
Our Awards
Kempenfelt Windows & Doors take pride that we have not only been nominated for multiple Reader's Choice Awards but have won serval in many of our different service areas, including Georgina.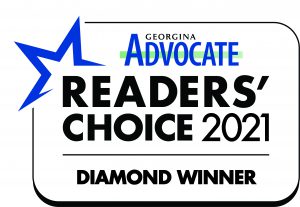 Voted Georgina's Favourite
Window & Door Company!
Contact Us
If you're ready to get the best windows and doors for your home, contact us at Kempenfelt Windows & Doors today! We offer free estimates and consultations so you can find out exactly what you need for your Georgina home. Our team of experienced technicians will be more than happy to help you choose the perfect products for your space.
Contact us today, and we will provide you with a free, no-obligation estimate and help you find the windows and doors of your dreams.
Phone: 905-895-1554
Toll-Free: 1-800-841-7469
Newmarket Showroom
569 Steven Court, Unit 6
Newmarket, ON
L3Y 6Z3
905-895-1554
Our Newmarket Showroom continues to be temporarily closed to walk-ins; however, private showroom visits and estimates can be booked directly with your salesperson.
Newmarket Service Area
Kempenfelt Windows and Doors Newmarket proudly services Newmarket, Bradford and Aurora.