Technical Elements – Our Homes Magazine
IN BUILDING HIS NEW WATERVIEW HOME IN BARRIE'S SOUTH END, GLOBALLY ACCLAIMED FIGURE SKATING COACH DOUG LEIGH HAND-PICKED A GROUP OF HIGHLY SKILLED INNOVATORS TO FORM THE UNIFIED TEAM REQUIRED TO BRING HIS UNIQUE VISION TO LIFE.
STORY: KATHLEEN DUNCAN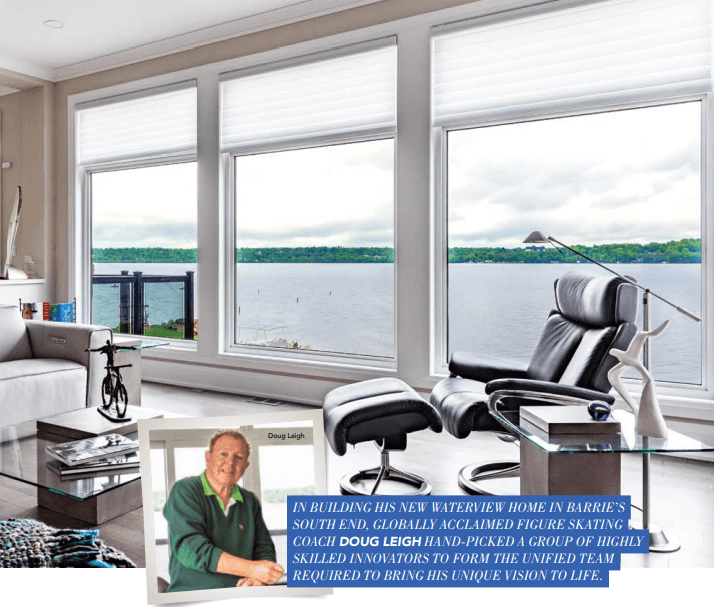 "I wanted to find the people with the passion to create what I was trying to achieve," he explains. "The experience I wanted to have, I wanted them to have it, too. Their fingerprints are all over this place."
Well known for bringing out the best in those dedicated to being the best, Doug and his Mariposa School of Skating have 20 world and Olympic medals to their credit since he started the school more than 40 years ago. Now semi-retired, he admits it is still a rare day when he doesn't lace up his skates.
With the same patience, precision and practicality he brings to the ice, Doug set out to create an exceptional environment that went beyond bricks and mortar.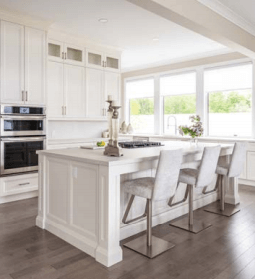 "On the coldest, darkest day of the year, I want this house to be full of energy," he says. "It is meant to be a chameleon and change with the season: a summer cottage, a winter chalet."
The open-concept 3,700 sq. ft. home has an elegant contemporary style.
"I WANTED THE VIEW UNOBSTRUCTED, SO WE CHOSE A JENN-AIR COOKTOP WITH DOWNDRAFT SO WE CAN COOK AND SEE PEOPLE AND THE VIEW." – Doug Leigh
To complete the timeless look, Doug worked closely with "wonderful" Michael Miller, head designer and sales consultant at Aboda Decor, a family-owned Barrie business celebrating its 20th anniversary. Aboda's 10,000 sq. ft. showroom features premiere Canadian-made furniture, artwork, lighting and accessories.
Although Doug researched for months, Miller helped lock in design, colours and decorating decisions. Doug says Michael is an excellent design professional. The two worked together on a previous project.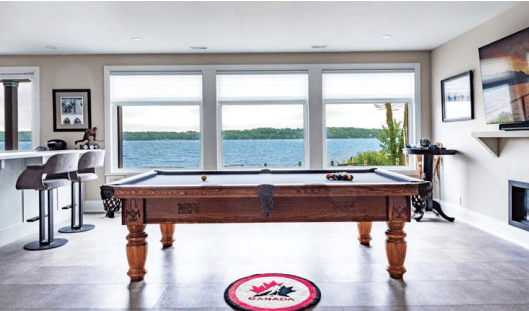 "I was involved from the beginning, helping to simplify the whole process. That's my job," says Michael.
Michael also advised on furniture placement, which he says can be tricky when the pieces are floating in a space – like the Pinnacle leather sectional in the living room, the Stressless recliner and the glass-and-steel Trica dining room table. Accessories were chosen to complement Doug's two Olympic torches (from 1988 and 2010) that are displayed in open cases flanking the entrance to the living room.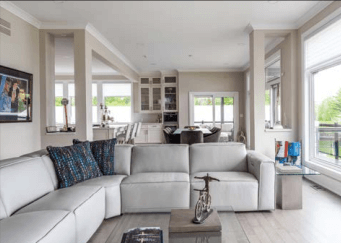 "When they are downlit with LEDs at night, it's beautiful," says Michael.
Built with entertaining in mind, each floor features a visually dynamic wall of tilt-and-turn EuroVinyl Windows from Kempenfelt Windows & Doors overlooking the bay. From the outside, the black frames contribute to an industrial modern exterior, enhanced by a stone and stucco facade co-created by Pinnacle Rockscapes, Coutts Masonry and Genesis Creations.
Inside, the windows match the Benjamin Moore Decorator's White (from Irvine Carpet One) that Bob's Painting applied to the Barrie Trim and Moulding Inc.'s finishings. Walls throughout are painted Collingwood.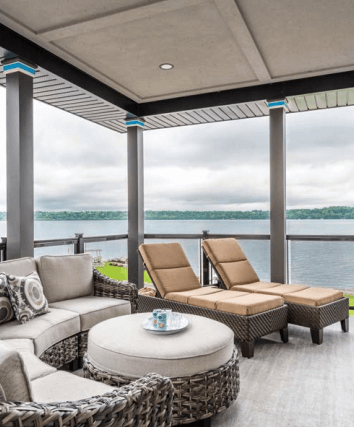 More than 20 years ago, Doug discovered Brent Langman of Advantage Homes. His artistry came to mind for this project. The custom builder possessed the passion, professionalism and expertise Doug was looking for.
Claire Shortt of Claire Shortt Custom Home Designs drew up plans to ensure every centimetre of the three storeys was maximized. Leigh's son Dustin joined the design meetings. Together, they applied the philosophy of organic architecture, orchestrating an internal harmony that extended seamlessly to the outdoor spaces. The physical and emotional well-being of residents and guests is clearly paramount throughout.
A custom four-person (with luggage) Lucanus Corporation elevator ensures accommodation without sacrificing beauty. The elevator's Preverco maple hardwood from Grand Floors provides continuity underfoot from the main and upper levels, while a house phone and industrial handrails create confidence. Matching premium vinyl planking in the lower-level games room, which designer Michael calls indestructible, continues the flow while encouraging engagement with the walk-out to a hot tub patio and the docks and beach beyond.
The gravity-defying floating staircase crafted by Orillia's Creative Design Stairs & Railing leads up to a lavish master suite boasting a fireplace from Napoleon Home Comfort, private balcony and coffee bar. Twin walk-in closets and en suites meet in an oversize shower with Bathworks' fixtures installed by Custom Plumbing. Aquamart provided water softening and reverse osmosis systems.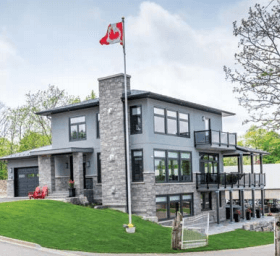 To optimize comfort, heated flooring and a zone-based temperature system are controlled by remote access, engaging the gas furnace and boiler set up by B & R Heating & Cooling. Electrical expertise, including the car plugs in the fully-finished four-car garage, was contributed by Leigh Technical Solutions (led by Doug's brother Don).
"It looks like a spaceship," Doug says of his mechanical room. "It's the energy heartbeat of the home."
Doug can most often be found in the kitchen. The shaker and glass-fronted cabinetry is by Perkinsfield Kitchen & Bath Inc. Its Benjamin Moore Cloud Cover colour coordinates with the Cloudburst Concrete Caesarstone-topped island from Maria Dus of Artistic Stone Design.
The kitchen was a big factor. Doug loves to cook and Sunday dinners are really important. "I wanted the view unobstructed, so we chose a Jenn-Air cooktop with downdraft so we can cook and see people and the view."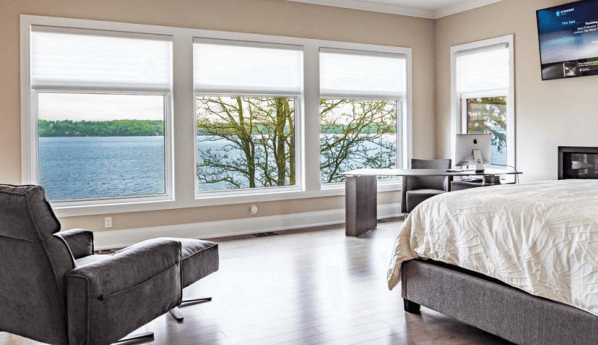 Doug is thrilled with the project and the process. From the beginning when Rudy Mak Surveying and excavator Phil Favero Construction were preparing the lot, to the final installation of the double Garaga garage door and Chubb security system, it was a team effort.
"Everything went well," Doug concludes. "It was fun. We had a lot of time and there was no pressure. The only thing I forgot was the doorbell."
You can read more on the ourhomes website or download the entire edition of ourhomes magazine