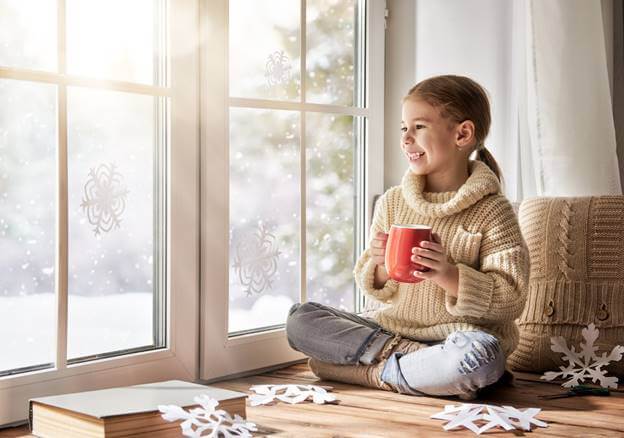 One of the most common questions we get this time of year concerns window installations. With the cold temperatures and presence of snow, many people shopping for windows and doors ask about installation during the winter; whether it's possible and how it's done. This is a question we get frequently this time of year, and the short answer is; yes, we can do window installs during the winter!
During the winter months, the process is slightly altered to minimize heat loss from your home. Rather than working on all windows at the same time, window installations are typically done one window at a time. The idea is to install and seal each window before moving onto the next one, in order to minimize the amount of cold air that makes it into your home in between switching windows. This does take more time, but we believe the extra time taken to maintain comfort for the customer, and to ensure proper installation, is worth the tradeoff.
So yes indeed, our expert team works year-round to service clients with their installation needs. In fact, window installations during the winter months can have a unique set of advantages.
Allergies
For those who suffer from allergy problems during the spring or summer months, winter is one of the best times to install new windows. With no need to worry about pollen and grasses during the winter months, allergy sufferers might find more comfort in changing their windows this time of year, despite the cold temperatures!
Scheduling Flexibility
By and large (but not guaranteed), winter months are slower when it comes to window installations compared to the spring and summer months. This means that there is generally more flexibility for when installers can come to your home to replace windows. Because most people remain under the impression that windows cannot be installed during the winter, there is often more flexibility in scheduling during winter.
Instant Efficiency (And Savings)
While modern windows have improved in their efficiency year-round, depending on how old your old windows are, you may notice your windows working in favour of your wallet right away during the winter months! With energy bills increasing for most homes during the cooler months of the year, new energy efficient windows will mean that your home will be able to maintain its warm temperature with less work needed on behalf of your HVAC system. That means less energy needed, and more money in your wallet! It is very common for homeowners with winter installs to see their energy bills decrease immediately.
Our expert team has been installing windows in our region for over twenty five years; we know how to work in the cold! Aside from volatile weather conditions, winter window installations are very much possible, and have their benefits over installing during the warmer months.
If you are in the market for new windows for your home, and are interested in getting started as soon as possible, don't hesitate to contact our team, or visit one of our showrooms in Barrie or Newmarket. Talk to us today to get started!