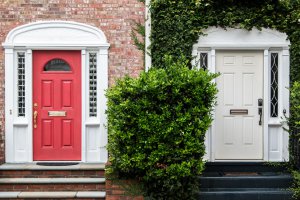 When it comes to your home's windows and doors, aesthetics aren't the only factor you should consider. Each has a definitive job to do, and making sure that they do it well is how you know you've made a wise investment for your home. However, when it comes to actually evaluate the performance of your entrance doors, it can be hard to know where you should begin, or what you should pay attention to.
Today, we're going to take a look at the three most important jobs your door has to perform, as well as how to tell if they're doing it well.
Performance
First and foremost, you want your entrance door to function properly. At a bare minimum, this means swinging open smoothly and settling securely into place. If your door sticks, jams, or scrapes the floor, it likely needs to be re-set in the frame. You also want your door to keep the elements out and to keep your warm or cool air in.
For this, you'll want to check the weather stripping at the base. If it's loose, pulled away, or noticeably damaged, it should be replaced. Checking for air loss is a bit more involved. With the back of your hand, feel along the door seams for any drafts, on both the outside and inside of the door. You can also check with a lit flame, as any air leakage will make the flame react.
Durability
The durability of your entrance door will depend on what the door itself is made of. Different materials have different pros and cons, and if your current door doesn't match the vision you have for its longevity, replacing it now could save you money later down the road.
Wood
When you want a showstopping first impression, wood should always be your first choice. However, wood isn't necessarily as durable or as low-maintenance as the other options in this list. Wood requires regular re-finishing to protect it from the elements, and as temperatures change throughout the year, wood can expand and swell.
Vinyl
For entrance doors, vinyl is affordable, durable, and can usually be customized to match the colour and design of the home's windows. With so much variety, it's easy to get the aesthetic look you prefer, but vinyl doors aren't necessarily as strong as some of the other options on the list.
Fiberglass
If you crave the look of a wood door without the upkeep, go fiberglass. They can be painted whatever colour you choose, they can be textured to look like a variety of materials, and unlike wood, they don't warp with weather changes.
Steel
Steel doors tend to be a great Goldilocks option: they're strong, don't require much maintenance, look great, and can even be outfitted with magnetic weather stripping. However, if they have an interior wood frame, that frame will need maintenance over time.
Security
Your entrance door is the literal entrance to your home. As important as it is that you present a welcoming and attractive facade for guests, it's equally important that your door function to keep unwelcome visitors out. Make sure that your door is strong and resistant to an outside force, but you should also pay attention to the strength of your door frame since that's where your locking mechanism is housed.
If your door's lock is loose, or easy to wiggle, it needs to be reinstalled. Similarly, if your lock is hard to turn or lines up incorrectly, that could indicate an issue with the way your door is aligned. Most doors include a locking mechanism on the handle, but for an extra layer of security, you should see about having a deadbolt installed, too.
Finding Your Ideal Entrance Doors
If you're ready to give your entrance door an upgrade, or if you'd like the assurance of having it professionally installed, get in contact with Kempenfelt Windows and Doors. With award-winning service, our own installation crew, and happy customers throughout Simcoe Country, you can confidently choose the right door for your home.
For more information on our selection of entrance doors, garage doors, or patio doors, give us a call at (705) 737-1554. You can also message us directly online.