You may not see them in too many homes yet, but Europe has adopted this attractive trend for quite awhile now. In fact it's fairly standard throughout European countries.  Why? They are perfect for both functionality and design. These windows have been designed with both security and climate in mind and featuring a tilt and turn system that offers customers with many benefits that are simply unmatched in the industry as of yet.
While Europeans have recognized the advantages of these functional, secure and energy efficient windows, it's time to show you exactly why they are a perfect solution for Canadian homes as well.
At Kempenfelt Windows and Doors, we wanted to share just a few reasons your Newmarket home should consider this multi-purpose windows: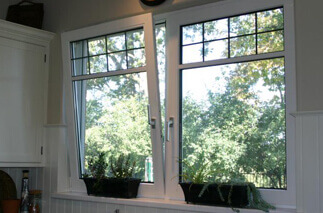 Distinctive functionality that can bare the most frigid climate conditions
Tilt and turn windows operate in a couple of ways; By turning the handle the window will tilt inwards at the top, which is perfect for bringing in that nice summer breeze when your house is feeling hot and stale. Furthermore, the windows swing fully inwards if you turn the handle even more. This provides your family members with the greatest level of air and ventilation possible. It also means cleaning can be done without any hassle; no longer will you have to struggle to try and reach those hard-to-get spots.
When your windows open inwards as your door does, it's specifically beneficial throughout the cold, wintery months when often traditional windows will stick from the frigid temperatures, freezing entirely. The tilt and turn option stops frost from building-up around the seal, which means lucky for you, you'll never have to face this hassle again when all you want to do is let in some fresh air!
Energy efficiency levels that significantly help your wallet  
Tilt and turn windows are built with an intricate and highly secure locking system, as well, they feature many air chambers within their frames to effectively block cold air from entering into your Newmarket home, and warm air from leaving it. Essentially the glass used in tilt and turn windows is approximately 30% thicker than in regular windows, which helps tremendously in enhancing sound and improving thermal insulation. Both of these contribute to lower energy consumption levels, which ultimately lowers your energy costs. Who wouldn't want to save on this ever-rising utility cost?
Hardware that is entirely customizable to your home's shifting
Houses here in Newmarket Ontario, often shift and settle over the years and this is typically caused by a change in weather. Unfortunately with this however, windows can shift as well so that they are no longer aligned properly as they should be; all of this movement and change can make them pretty difficult to use and open. The multi-point locking system in tilt and turn windows is built specifically with unique 3D adjustable hardware, which makes it extremely easy to perform realignment of your windows.
Steel reinforcements in the frame also assist in maintaining the windows shape, as they help to position the windows correctly, for long-term use and reliability. When you choose these windows for your Newmarket home, you'll never have to face windows that are difficult to open and inefficient in functionality. Remember, the goal is to save money with quality windows not lose it!
To learn more about our tilt and turn windows, or to discuss additional options for your Newmarket home, contact us today!