Selecting the perfect windows for your bathroom shouldn't be too hard if you're looking for the best solution in relation to energy efficiency.  While your bathroom may not be as important when it comes to reserving energy in comparison to other rooms in your home, it's still worth careful consideration to choose windows that will perform well. Why? You'll want windows that provide good ventilation, privacy, and some natural light.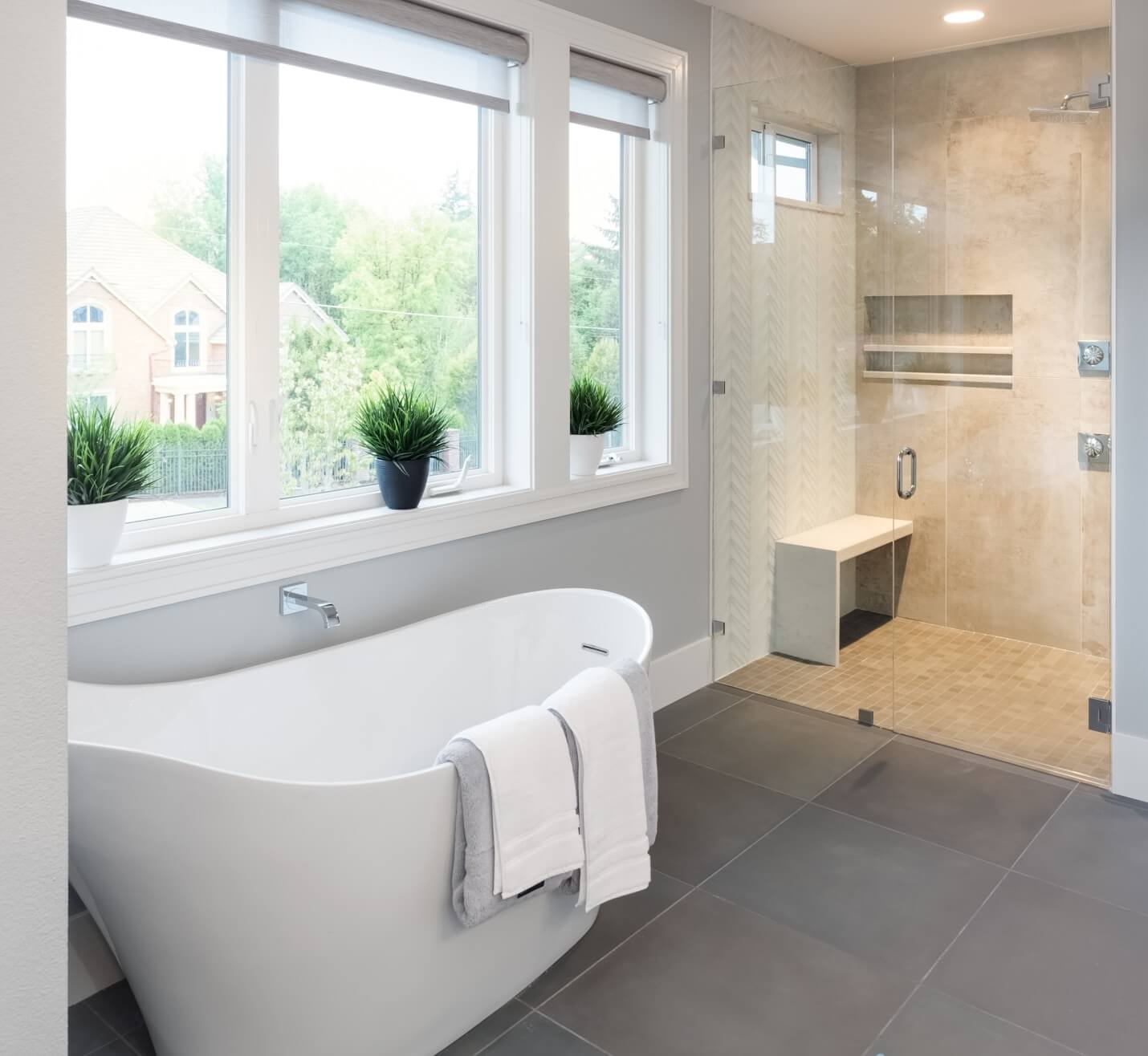 What to Think About When Purchasing Bathroom Windows
Humidity is highly prominent in your bathroom, specifically around your shower. Of course when you run a bath or have a hot shower, all the moisture that develops eventually needs a place to go.
This reason alone makes having at least one window that opens in your bathroom important. Opening a window for even 15 minutes will be sufficient enough to remove humidity in the air, preventing damage to your home caused by built-up moisture. When you don't have proper ventilation in place, the development of mold on walls, windows, and even around the bathtub can quickly occur and progress with time if not tended to. Why? Because mold thrives in humid and warm environments so if it's left untreated it can get worse and even lead to respiratory issues in some cases. Bottom line, mold isn't a good situation for your home and can destroy your walls in the end. Keep windows open and/or a bathroom fan on to keep the room ventilated.
The more humidity you're experiencing in your bathroom may also be a direct correlation with the efficiency (or lack thereof) of your window(s). If there is significant humidity in your bathroom this may be a sure sign that you need to replace your current windows. Where the humidity in the air is high, the dew point is also likely to be high; to combat this, you'll want to ensure you have efficient windows that have the warmest possible glass surface on the inside of your home. If the glass surface is cold, your windows will experience condensation much faster which can freeze eventually and leave your windows stuck if it's ignored and not ventilated properly. It's best to avoid this possibility all together, as it can be a vicious cycle otherwise that can be frustrating and costly for home owners.  Choose quality, energy-efficient windows for your bathroom to avoid these problems.
Casement and Awning Crank Windows
In relation to energy-efficiency, crank windows are your best option because of the compression seal. The compression seal is the part of the window where moving sash connects the frame. Once the window is closed, the unit is essentially airtight with this compression seal, which means you benefit from very little heat loss. While crank windows are more efficient, they can sometimes cost more than slider windows.
Crank windows are available in casement or awning style. Casement windows are typically used in upright openings and have a hinge on the side of the window. These windows are a top choice for bedrooms but you can still decide to use them for your bathroom as well.
Awning windows on the other hand, are more appropriate to install in your bathroom. Awnings have a hinge on the top side of the frame, and the bottom of the sash opens away from the window frame. The advantage with this is that an awning window can be left open in essentially all weather conditions. In the open position, the sash lets air to come through but at the same time effectively stops rain or snow from getting inside.
An additional advantage? Bathroom awning windows, that are used with privacy glass, will continue to conceal the inside view when open.
Slider Windows
Slider windows are also a good choice for your bathroom though they are slightly less efficient then casements or awnings.
Even though slider windows are typically less costly than casements or awning windows, they still provide energy efficiency. These windows have the ability to easily open for ventilation in the bathroom area.  However there is one advantage an awning window provides over a slider or even a casement window in a bathroom or kitchen environment, an awning window allows for ventilation even during mild rain due to its design. If you are fixed on installing slider windows for your bathroom, you should consider choosing a style that includes Low-E coatings and argon gas to help with overall efficiency levels, which will help with heat loss in winter and cool loss during the warmer weather months.
Privacy Glass
When thinking about privacy glass for your bathroom windows, remember that some designs allow more light in than others. Kempenfelt Windows can direct you in selecting an option that is perfect for the amount of natural light you'd like to have.
Kempenfelt Windows and Doors will provide you with your bathroom windows of choice. All of our windows are made of premium quality glass, built for top performance when it comes to energy efficiency levels. Not only that, they are affordable.
Get in touch with our team to discuss more at 705-737-1554