As we slowly begin gearing up for winter many homeowners will be starting to have nightmares about the frigid temperatures that come with the dumping of snow we get each year here in the Snow Belt! Kempenfelt Windows & Doors wants your family to keep happy and warm this winter, so we have collected some tips that can help you do this relatively easily!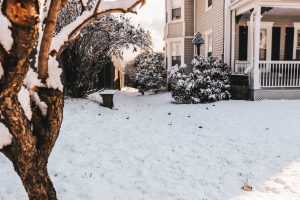 Keep the curtains open on sunny days. This one might seem odd, as the perceived insulation of curtains from the snowy weather may entice homeowners to do the opposite. But generally speaking letting in the sunlight is a better way to warm up the inside of your home, even on cold winter days. Coupled with High efficiency windows will especially help here!
Close the curtains at night and when the sun doesn't shine. Night time is when the insulating effect of curtains is best used. Insulated curtains might be a good choice for homes that are in particularly cold regions. If there is no sunlight it is generally best to keep the curtains closed to maintain a warm living space.
Check your switches and power outlets. Believe it or not power outlets and switches are a common source for cold air, particularly those located on the interior side of the outer walls. Insulators for switches and outlets do exist and can be found pretty easily!
Make use of your oven! The heat that radiates from ovens can also play a significant role in warming your living space. After your done cooking leave the oven door open for a few minutes to allow that warm air to radiate throughout your home. An excellent excuse to bake tastier treats!
Utilize winter mode on your ceiling fans. A good number of ceiling fans actually have a specific mode for the winter time that moves the fan in reverse. The idea is that rather than trapping heat near the ceiling as is desired during warmer months, reversing the direction of the fan pushes warm air back down towards the ground, allowing rooms to actually be warmed instead of cooled. See if your ceiling fan has a reverse mode!
Stop drafts near doors. Especially outer doors. Cold air has many opportunities to sneak past doors with all of the open edges. Draft stoppers are a good temporary solution to stop drafts coming in through doorways.
If you are thinking of implementing some more permanent solutions to combat draft problems, or don't feel your windows do a great job letting in and keeping in the heat, talk to us today. Our showrooms in Barrie and Newmarket are full of options for you to view in person, and our team of experts can help you determine the best product for your needs in budget.
Whether you know a thing or two about windows and doors, or aren't sure where to start, don't hesitate to contact us today. Let's make this winter a cozy one!