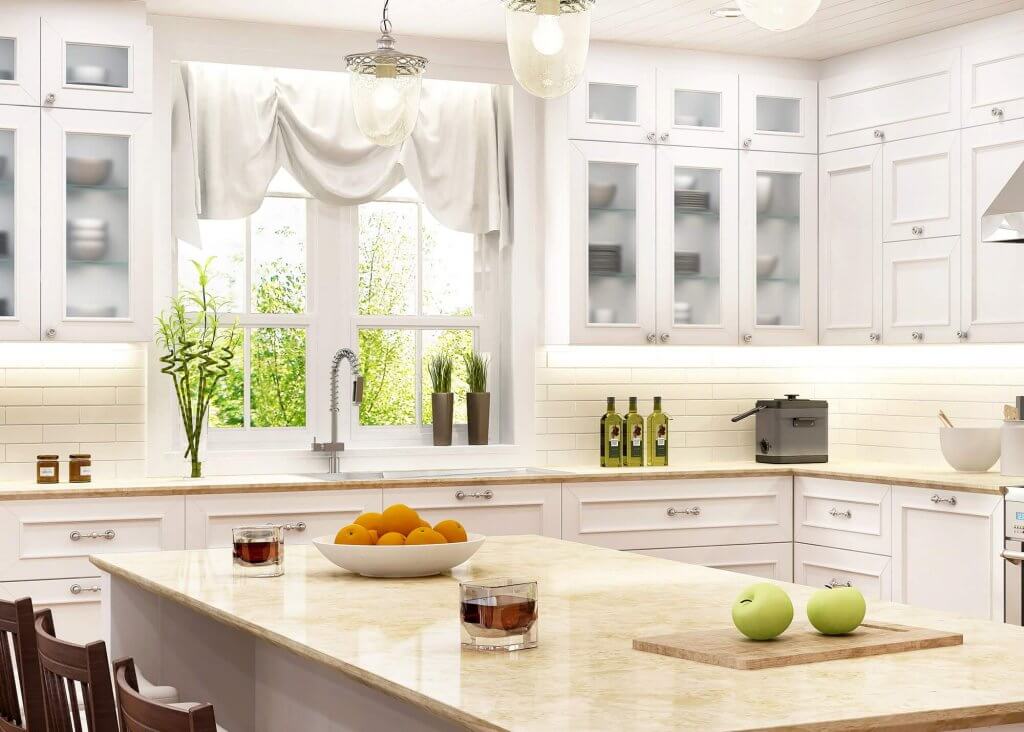 When picking the perfect curtains, blinds or shutters for your windows, there's more to think about than just appearance! How the room is used, how accessible the windows are, and the types of windows will greatly influence what kind of window dressings you can use.
At Kempenfelt Windows, it's important to us that our windows look their best, both inside and out. So we've made a room by room breakdown of some valuable tips to consider.
Living Room
The living room is easily one of the most important rooms of any house. It's often where you entertain your guests, and where you should leave an outstanding impression. It's not uncommon to have your T.V. and entertainment systems in your living room as well. If your living space is a part of an open-concept room with your kitchen and dining area in one, it's important to keep colours and styles consistent across all windows. If your windows are hard to access due to being behind a couch or other furniture, consider choosing a solution that works well all times of the day without much adjustment.
With that in mind, you should decide if you want your windows to be the focal point, or to take the back seat. Bold coloured drapes and patterned blinds can leave a strong impression and make even boring windows look impressive. Neutral drapes, shears and shutters are great for controlling privacy natural light while complimenting your room's style. Check out these great examples to get some inspiration.
Kitchen
Similar to living rooms, larger windows can be used to create beautiful focal points. However, the kitchen is most often used in a more practical way, so having large drapes that get walked into or tripped on might be less ideal. Depending on the size of the kitchen or the windows themselves, you might have to get creative to make your window spaces look amazing.
If you're looking for a simple solution for controlling light and privacy, you can't go wrong with blinds or appropriately sized curtains and shears. Shutters can even be a great idea to give a more neutral look while still letting that natural light in, especially if the view is less than desirable. If you want to get creative, consider adding a shelf or lighting fixtures to the window space to add more interest to the space. These simple ideas caught our eye and we think they will catch yours as well.
Bedroom
Bedrooms have their own unique challenges when enhancing their windows. Not only do you have to consider appearance and practicality of use, but you have to consider night time conditions as well. The last thing you want is to get a beautiful shear or light curtain installed, just to find out the street light across the road shines through no matter what you do.
If you have the fortune of not worrying about unwanted light shining in your window, then venetian blinds are great for bedrooms, allowing for the most flexibility depending on your mood or time of day. Multi-tier shutters can also match well depending on the look and feel of the bedroom. Layer both curtains and blinds to get the best of both flexibility and design for your room.
In the unfortunate case where unwanted light can shine through your windows, custom cut blackout curtains and blackout roller blinds can still look great in a room while ensuring the occupant gets a good night's rest. Add another layer of curtains to give more character when pursuing this solution.
It's also worth mentioning that lofts can have the added challenge of angled windows. Thankfully, modern society has the perfect solution for these windows in the form of motorized blinds. With a flick of a switch, these blinds will unroll themselves and stay in place.
Bathroom
Never underestimate the importance of a well decorated bathroom window. Not only is privacy vitally important, but often the window is the best and only focal point of the bathroom besides bold and elegant tiling. Bathrooms also have the added challenge of being smaller than most rooms in the house. Extra care must be taken when choosing materials as the humidity in bathrooms can damage certain materials.
Choosing roman blinds or shutters with bold colours can instantly transform the appearance of any bathroom, making a normally bland room significantly more interesting. Often times it's best to go simple and practical with your bathroom window dressings with roller blinds or simple venetian blinds.
Getting a frosted film to cover your window can give you that much needed privacy without hindering on the space of a smaller bathroom. If you wanted to take that approach, ideally you would consider installed a frosted glass pan window instead.
The Finale
There are a variety of other rooms that your house might include beyond the standard arrangement. Compare how the room is used to a similar room listed above and treat it as so. In the end, we hope we were able to aid and inspire you to find the perfect dressings for your windows at home.
If you're starting to realize you need a window replacement, Kempenfelt Windows is here for you once more! We pride ourselves in installing top quality windows in a variety of styles and fashions. If you're in the Barrie or Newmarket area, come stop by one of our showrooms, or get in touch with us for a free no obligation quote.