In today's economy, it is important to conserve expenses and energy. Kempenfelt Windows offers a selection of energy efficient windows that are designed with quality and longevity in mind.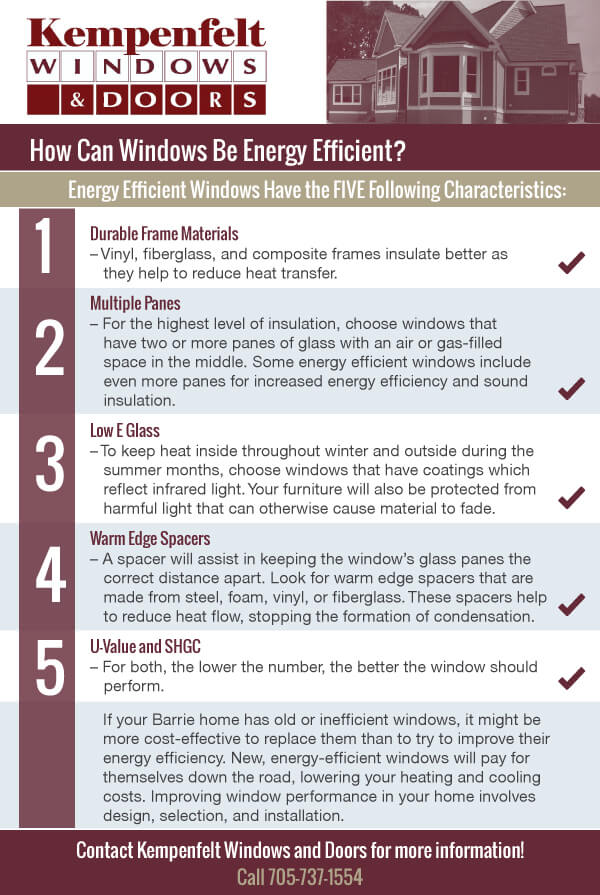 How Can Windows Be Energy Efficient?

Energy Efficient Windows Have the Five Following Characteristics
Durable Frame Materials

Vinyl, fiberglass, and composite frames insulate better as they help to reduce heat transfer.

Multiple Panes

For the highest level of insulation, choose windows that have two or more panes of glass with an air or gas-filled space in the middle. Some energy efficient windows include even more panes for increased energy efficiency and sound insulation.

Low E Glass

To keep heat inside throughout winter and outside during the summer months, choose windows that have coatings which reflect infrared light. Your furniture will also be protected from harmful light that can otherwise cause the material to fade.

Warm Edge Spacers

A spacer will assist in keeping the window's glass panes the correct distance apart. Look for warm edge spacers that are made steel, foam, vinyl, or fiberglass. These spacers help to reduce heat flow, stopping the formation of condensation.

U-Value and SHGC

For both, the lower number, the better the window should perform.
If your Barrie home has old or inefficient windows, it might be more cost effective to replace them than to try to improve their energy efficiency. New, energy efficient windows will pay for themselves down the road, lowering your heating and cooling costs. Improving window performance in your home involves design, selection, and installation.
Contact Kempenfelt Windows and Doors for more information! Call 705-737-1554