Summer has officially arrived, and we couldn't be more excited! With warmer and longer days, you may be looking for ways to get more natural light into your home. The sun provides many benefits to homeowners; it not only improves your mood, but it can enhance the colours in your décor, and help to keep your space warm throughout the spring months. The easiest and most effective way to allow more natural light into your home is through installing a bay or bow window. There is often some confusion around these different windows, but it is important to know that each has its own unique advantages and features.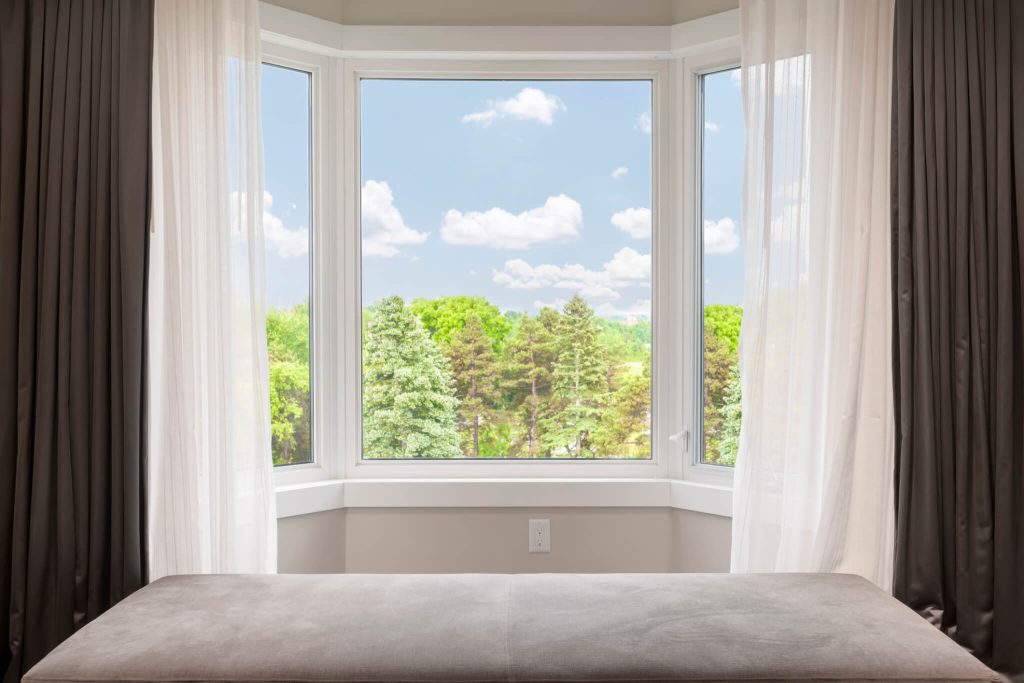 Let's dive in and discuss what a bay, bow, and garden window really means, and what each offers to homeowners:
Bay Windows
A bay window is made up of three window panes placed side by side; as displayed in the image above. The windows are angled to project from the exterior wall similar to that of a hexagon. Bay windows are available in half-height in which the space between the window panes has as shelf or ledge. Alternatively, there are bay windows in which the height extends to the floor; full-height bay windows.  Bay windows are excellent for letting in natural light, because they protrude from the wall and are positioned in different angles which as a result, capture sunlight at unique angles. These windows are beautiful and a popular choice for those looking to enjoy the sun throughout most of the day. The nice advantage with these windows is that you have the choice of whether you want to build seats into the floor space inside the bay window. Some homeowners may wish to grow flowers or herbs on the ledge of the windows too; lots of flexibility to make this nook comfortable and inviting.
Bow Windows
Similar to bay windows, these have multiple window panes, but unlike a bay window that only ever has three window panes, bow windows have at least four or five window panes. Window panes in a bow window are designed to be installed on a curve instead of a sharp angle. If you prefer a modern and geometric look you will probably be more attracted to bay windows over bow windows. Bow windows are ideal if you're after a softer and more traditional feel. Bow windows are also typically floor-to-ceiling in size and style and you can easily put a window seat or sitting area inside the window arrangement with these as well. Of course because there are more window panes in a bow window, you'll automatically notice additional sunlight coming through than you would with a bay window. Remember that whatever you choose, be sure you are selecting energy-efficiency windows. A large bow window may increase your energy bills, so it is crucial you choose a windows and doors provider that can offer you the most energy efficient windows on the market.
If you'd like to bring more light into your home with a bay or bow window, contact Kempenfelt Windows and Doors. We will provide you with estimates at no charge, and can assist you in selecting a window option that is best suited to your space and home décor.
Get in touch with us in Barrie at 705-737-1554 or in Newmarket at 905-895-1554