Cleaning isn't a popular topic in any household. But as an official member of the Garaga Experts Network and a well experienced official installer for Garaga doors, we can attest to the benefits of having a clean garage! Garages are a space often taken for granted in many homes, but as such a vital space for many homeowners we thought it could be helpful to put together some tips on how you can tackle organizing and cleaning up your garage.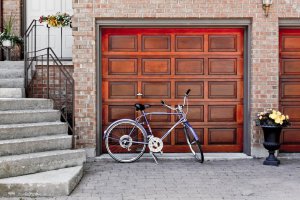 There are many unique, easy and affordable storage solutions for garages that can improve organization, recover floor space and make your garage a handy place at the same time. Here are some neat ways that you can organize your garage;
Ceiling Storage Bins
No, we are not talking about rafters (although if you have them, they can provide unique storage opportunities as well.) Ceiling storage bins are a neat method to recover floor space from small items. Having a series of mounts for bins that allow the bins to hang over your garage space can turn your ceiling into valuable storage space. Just be careful not to locate any bins in a place that could interfere with your garage door!
Magnetic Strips
Many garages serve as the home for all sorts of tools. One way to easily sort small metal tools and parts such as drill heads and bits is to attach them to some magnetic strips. Simply sticking some adhesive magnetic strips on the outer edge of a shelf or tool bench can create a unique and effective storage medium for any small metal tools or bits.
Wall Organizers
Many unique wall organizers have become easy to find for storing things such as brooms, shovels, rakes or mops. If you don't have space for a garden shed, a wall organizer may be just the ticket for organizing and storing your garden tools in a way that keeps them together and out of the way.
Hangers
Aside from ceiling storage bins, hanging bigger items such as bicycles and golf clubs from the walls or ceiling is an excellent and easy way to recover floor space in your garage. Consider hanging as many items as you can, and shelve whatever you can't to save as much floor space as possible!
If you've already got your garage organized, but still feel that it needs something to tie it all together, consider looking at installing a new garage door. Many tasteful options on modern garage doors can provide just the right final touch to tie your garage together. If your garage door is older you might also find that a new garage door can better insulate your garage, allowing you to admire your organization even longer!
As a Garaga expert installer and dealer with nearly 20 years of experience, Kempenfelt Windows and Doors are here to help you figure out what your garage needs. Come see one of our showrooms to view some options, or talk to our experts that can help you put together the perfect door for your garage.