It's likely that any homeowner in central and northern Ontario has at some point noticed their windows appearing to "sweat". It tends to happen during the colder months of the year, particularly on days when temperatures are very cold outside. This phenomenon, as common as it is, is something many homeowners don't realize has potentially damaging side effects to not only the home, but also to the health of occupants.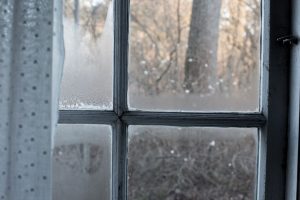 This "sweating" phenomenon is essentially just caused by condensation; when warm and moist air indoors meets the cold outside air through the glass, the moisture held in the warm indoor air tends to follow. That moisture ends up on the glass (what makes the sweating appearance) and can also end up on the walls and inside internal wall cavities.
Where things can become problematic is when there are leaks or drafts that allow the warm and cold air to meet within internal walls and wall cavities. This can create the perfect conditions for a breeding ground of mould and other fungi. Mould and fungi can create a range of problems, including structural issues that could compromise the structural integrity of your home, and health issues that could impact any occupants. Signs that can indicate mould and fungi growth include musty odours in and around windows in damper areas of your home such as rooms on lower levels, and the basement. If you detect mould or fungi, it's important to have it treated as soon as possible to avoid damage to your home and, most importantly, your health.
Unfortunately, living in the region we do, means that condensation is bound to happen during parts of the year. The question becomes what can be done to minimize the negative effects of it? Minimizing condensation damage and mould and fungi growth can be done by ensuring your home is properly sealed and insulated. This will minimize the chance that cold and warm air will be able to meet within the internal structure and walls of your home, and form the breeding grounds for mould, mildew and fungi. Maintaining good air venting is another step that can help minimize the collection of condensation in any given area. Dehumidifiers are another solution that can help minimize humidity levels in your home and decrease condensation.
Above all, the takeaway here is to make sure that you are paying attention to any condensation buildup in and around your windows, and monitor the humidity levels in your home to ensure that moisture is not building up and creating an unhealthy environment. Humidity can be monitored fairly easily using a hydrometer or a humidity monitor.
If you're concerned about odours in and around some of your windows, and are concerned that your window seals are allowing too much condensation into your home, don't hesitate to contact the experts at Kempenfelt Windows & Doors to find out if your window seals have gone bad. Contact us today to learn more.
Call 705-737-1554 in Barrie or 905-895-1554 in Newmarket.